Tokyo Hikari Guest House
東京ひかりゲストハウス
〒111-0051
東京都台東区蔵前2-1-29
address: kuramae2-1-29,
taitou-ku,Tokyo,Japan
p.o.box 111-0051
mail: t.hikari.gh@gmail.com
TEL:03-5829-4694
FAX:03-5829-4695
About us
Tokyo hikari guesthouse  
  Tokyo hikari guesthouse is located in Kuramae Tokyo.The house is old  Japanese style wooden building and we have renovated it for about 1 year. We did it ourselves and it was a lot of fun.
Carpenters had lived and worked in this house since 1946 , so the first floor has 4 meters high. You can see old days in the old wooden pillars.  Enjoy the mixture of Old and New, Eastern and Western. We hope of  your comfortable stay here. And also, meet friends around the world.
Around the guesthouse
We are in Kuramae town of hand manufacturing. Located corner of toys wholesale district.
15minuits walk to the north, you can get Kaminarimon Sensoji temple , Asakusa.  And then walk more over the Azumabashi bridge, you can get Tokyo Sky tree 634m hight tower.
To the south of guesthouse, there is Asakusabashi area. In this area, there are a lot of handicraft stores. You can be interested in observing these stores . Others, close to Akihabara , Ueno and Okachimachi downtown.
Regulations (require to read)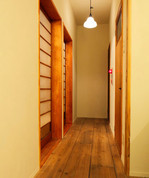 Check in time : 16:00~23:00
Check out time :11:00

*Reception open 16:00~23:00  8:00~12:00.  Other time , we will lock the entrance.  We can't accept late check in. 
Cancellation policy
We will charge cancellation fee, if you cancel 30 days (private room), 7 days (dorm room) prior to your check in day.
We will charge cancellation fee ,even if you have any reason.
(When traffic cancel happen due to bad weather also we will charge)

*4 days prior to 30 days prior  30%  of total room charge. (dorm room 4 to 7 days prior)
*2 to 3 days prior 50% of total room charge.
*The day before your check in and check in day   100% of total room charge.
Others
・Smoking is not allowed in the guesthouse (including the garden and the street in front of the house)We will tell you the place where you can smoke.
・We can keep your baggage at the reception before check in time at free.
  we accept it 8:00~12:00 (reception close 12:00~16:00)
  12:00~16:00 Please call our cleaning staff in GH.
  After check out we will keep your baggage 8:00~23:00 on the day your check out at free.
・Guests with children (under 12 years old) are asked to stay in the private room.
・We can accept Japanese yen cash only. We are taking advance payment system.
   (Your credit card info is not charged, if you come.include Agoda customer)
 ・We have no closing time . But when you come back late at night, please be quiet and don't    disturb neighbors or other guests.

・We don't allow any non-guests come in guesthouse.
・Maximum of stay is 30 nights.
・Maximum members of one group is 5 persons.
Feel free to ask , if you need help for organizing your trip in Japan.