Access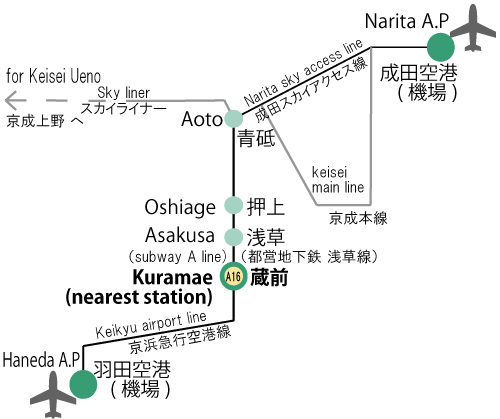 From Haneda airport international terminal
Haneda airport international terminal station
↓(Keikyu line about 40 min.) ¥570
 Kuramae station Asakusa line
*You may choose direct train to Kuramae.
*Some train, you must transit at Sengakuji Sta.(Airport Kaitoku Exp pass Kuramae Sta.)
*Kuramae Sta. Use exit A0 elevator. About 2 min to GH
From Narita international airport
Narita international airport station
↓ (Keisei  Narita sky access line 52 minuits )
Oshiage station (transit) ☆Some trains are going directly to Kuramae station.
↓ (Toei Asakusa line 5 minuits)
Kuramae station Asakusaline
 Access Exp (¥1290)
Keisei Honsen (¥1100)(you need to take more 10~30min)
*Use exit A1 elevator at Kuramae Sta.
(you can get some advantage,if you get on first ,second coach)
Keisei Skyliner is very comfortable but not convenient to Kuramae Sta. 
and you need to pay extra Express fee(+¥1240).
Tokyo Hikari Guest House
東京ひかりゲストハウス
〒111-0051
東京都台東区蔵前2-1-29
address: kuramae2-1-29,
taitou-ku,Tokyo,Japan
p.o.box 111-0051
mail: t.hikari.gh@gmail.com
TEL:03-5829-4694
FAX:03-5829-4695